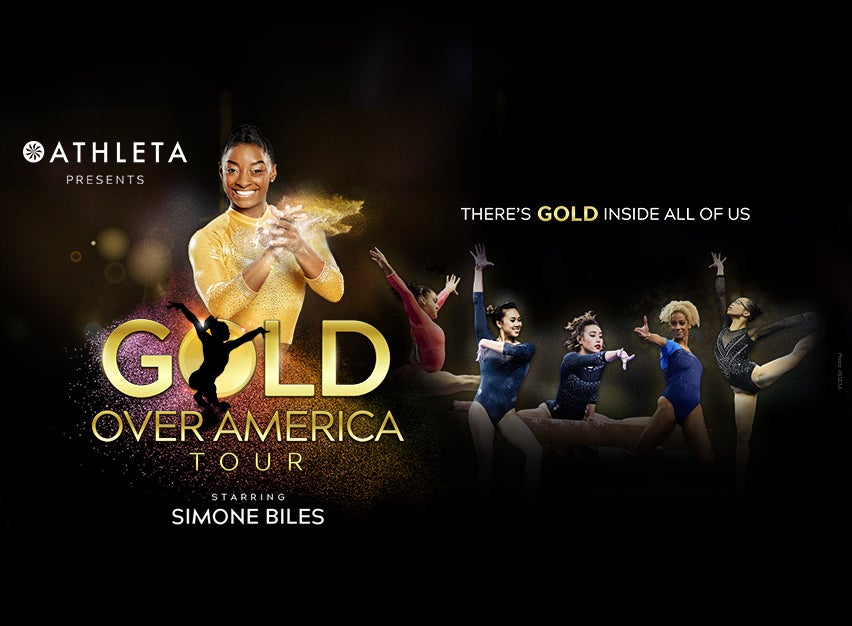 Gold Over America Tour
Showtimes
Oct 05, 2021Tuesday 7:30 PM
About The Show
The GOLD OVER AMERICA TOUR starring SIMONE BILES is a celebration of powerful female athletes who, together, are a united force proudly representing the sport of women's gymnastics and inspiring the next generation of athletes.
Straight from the world stage, the best gymnasts in the U.S. featuring the most decorated gymnast of all-time, Simone Biles, who medaled with silver for team competition and bronze for the balance beam, will be joined by her teammates Jade Carey who won gold in floor exercise, Jordan Chiles and Grace McCallum who won silver for team competition and MyKayla Skinner who won silver in vault.
Previously announced participants include 2016 gold and silver medalist in Rio and Dancing With The Stars champion Laurie Hernandez, All-American, NCAA National Champion and viral video sensation Katelyn Ohashi, winner of three gold medals in 2019 and 2020 at the Tokyo World Cup Morgan Hurd, elite gymnast Shilese Jones, former USA Gymnastics Women's Athlete of the Year Chellsie Memmel, 2021 French Olympian Melanie De Jesus dos Santos, and 2018 NCAA National Champion from UCLA where she achieved 10 perfect 10's Peng-Peng Lee. The entire cast will celebrate world-class gymnastics in the afterglow of the world's preeminent international competition in a way you've never seen before… their way!
The GOLD OVER AMERICA TOUR will be a high-octane, fun-filled experience that will not only showcase athletic brilliance but also showcase each athlete's own inspiring championship journeys and bring the audience closer to the action than ever before. These women are not only athletes at the top-of-their-game, but also the ultimate squad. The show emerges from their personal values of empowerment, friendship, positive body image, mental health awareness, and self-confidence. A crew of gymnastic dancers under eye-popping LED video screens and lights rounds out the experience.
---
GYMNASTICS CLUBS
GOAT offers great discounts for gymnastics clubs. Please contact the group sales representative below for more information.
Kerri Troyer
Paycom Center, 100 W. Reno Ave Oklahoma City, OK 73102
Phone: 816-949-7171
Email: ktroyer@asmglobal.com
---
PREMIUM & VIP EXPERIENCES
For more information on the Gold Over America Tour premium and VIP experiences click here.
Read Less Read More