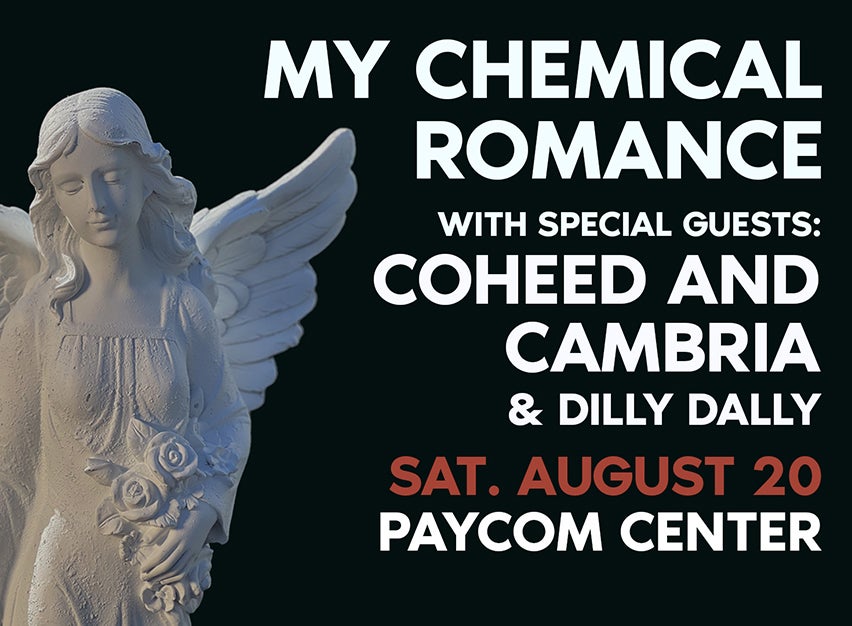 My Chemical Romance
Showtimes
Aug 20, 2022Saturday 7:30 PM
About The Show
Following the band's triumphant return to the stage in Los Angeles, CA in 2020, My Chemical Romance have announced additional North American tour dates to their already massive run. The ground-breaking tour will kick off in Oklahoma City on August 20 with special guests Coheed & Cambria and Dilly Dally.
SHOW DAY INFO
Fans can start lining up at 8 am the day of the show. Overnight camping is not allowed on venue property. General admission ticket holders must enter through the Southwest Entry, across from the Omni Hotel.
AXS is the official ticketing platform for this show. Tickets are digital and require the use of the AXS mobile app for scanning. Learn more and download at axs.com. Screenshots will not be accepted. If you are not entering with your whole party, be sure to transfer tickets through the AXS app.
Proof of vaccination and/or negative test results are not required for entry to this event. Event organizers reserve the right to change entry policies at any time. Masks are recommended but not required.
"MCR ceases to be a nostalgic act, and proves its mettle as a timeless, rock & roll band for the ages." - Rolling Stone
"Any doubts about how the break affected the New Jersey quartet were immediately dead and buried... It was the My Chemical Romance fans have been dreaming about since their breakup, with a fresh, give no f—s attitude." - Entertainment Weekly
"It was physically impossible to stand in that room and not understand to the core of your being why this band means so much to so many people." - NME
Read Less Read More