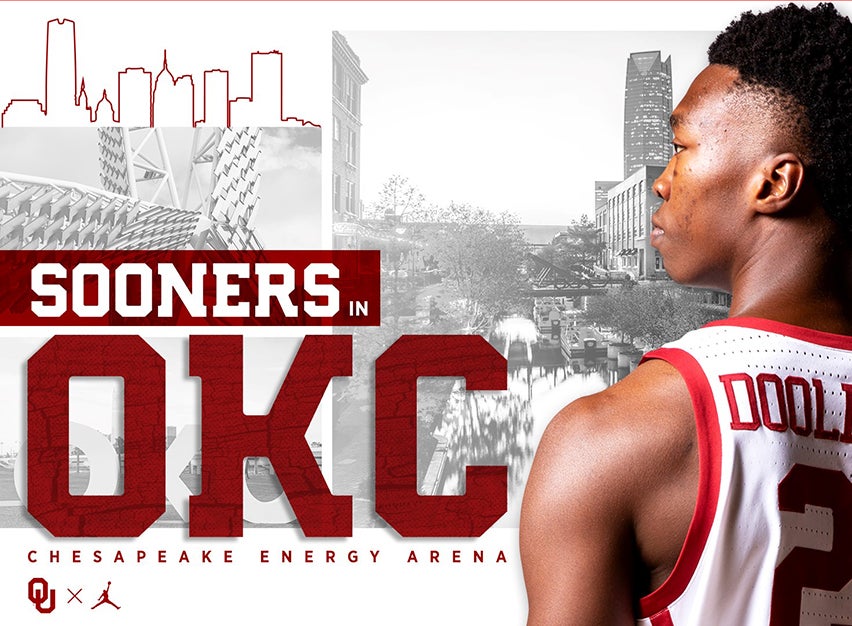 Sooners to Play Pair of Games in Oklahoma City
Oct 22 / Tuesday
The University of Oklahoma announced Tuesday that it will play two men's basketball games in downtown Oklahoma City at Chesapeake Energy Arena this season. The Sooners will host Mississippi State (Jan. 25) and Texas Tech (Feb. 25) in OKC and both games will be included in 2019-20 season ticket packages, including student season tickets. Seat location for season ticket holders will be similar to those locations they hold in Lloyd Noble Center.
Located 22 miles north of the OU campus, Chesapeake Energy Arena and downtown Oklahoma City offer Sooner fans a unique game day experience. The 18,203-seat arena is home to the NBA's Oklahoma City Thunder and is located within walking distance of the central business core, Bricktown entertainment district and Scissortail Park.
"We've had some great experiences hosting games at Chesapeake Arena," said OU Vice President and Director of Athletics Joe Castiglione. "Our goal is to continue to engage more and more fans as well as expand the interest around Oklahoma Basketball. We're very excited about the future of our program with the blend of veterans and a talented group of newcomers. By playing two games in the heart of Oklahoma City with additional pre or post game options, we hope to open up opportunities for more fans to get familiar with this team."
The Sooners have played 20 previous games inside "The Peake", most recently topping Wichita State in a 32-point victory last season. Oklahoma is 14-6 all-time in the venue and 5-1 during the Lon Kruger era, including a pair of NCAA Tournament victories during OU's run to the 2016 Final Four.
Oklahoma is 11-4 when playing at NBA arenas under Kruger and has won games played at STAPLES Center, Madison Square Garden and Chesapeake Energy Arena over the last two seasons.
"Playing in Oklahoma City and the environment of an NBA arena is an incredible experience for our team," said OU head coach Lon Kruger. "Hosting big matchups at Chesapeake Energy Arena is a special opportunity, especially for our players from Oklahoma who grew up watching the NBA in Oklahoma City. We're looking forward to seeing Sooner Nation pack the stands for these two big matchups and creating an electric atmosphere in OKC."
The downtown matchup against Mississippi State will be a part of the Big 12/SEC Challenge and tip off at 1 p.m. CT on an ESPN network. Oklahoma is 4-2 in the Big 12/SEC Challenge, ranking the Sooners second in wins among Big 12 schools.
Oklahoma's Tuesday night contest against the reigning Big 12 co-champion and national runner-up Texas Tech will tip at 8 p.m. CT on either ESPN or ESPN2.
Tickets are on sale now and start at $10. Fans can save on tickets to both games by purchasing a three-game mini plan starting at $40. The mini plan includes a lower-bowl ticket to both Oklahoma City games along with a non-conference matchup at Lloyd Noble Center of your choice.
To purchase single-game, season or mini-plan tickets, order online at SoonerSports.com/Tickets or call the OU Athletics Ticket office at (800) 456-4668. Tickets can also be purchased at the Chesapeake Arena Box Office or online at Ticketmaster.com.